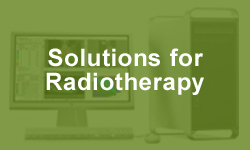 Best NOMOS provides a comprehensive list of products that allow clinicians to accurately plan and deliver radiation treatments. Our advanced technologies, coupled with our comprehensive customer training and support programs, ensure that you can offer treatment with complete confidence.
---
CORVUS® IMRT Planning
CORVUS® is an inverse treatment planning system that optimizes a delivery plan of thousands of pencil beams of radiation to meet your prescription dose goals and constraints. The only treatment plan with Active Rx, CORVUS provides the ability to manipulate isodose lines after plan calculation to improve the plan with immediate, graphical feedback...
nomosSTAT™ Serial Tomotherapy
nomosSTAT™ serial tomotherapy delivery technology fires pencil beams from a continuous 340° arc around the patient, creating a highly conformal dose distribution. Treatments delivered with nomosSTAT™ provide better critical structure avoidance than other IMRT techniques without compromising the dose to the target...
Best™ SOFTDISO Dose Verification Software
Best SOFTDISO is a stand-alone, user-friendly, workflow driven application that performs In-Vivo dosimetric analysis (IVD for 3DCRT, IMRT and VMAT beams using aSi-EPID portal systems). It checks the correctness of the treatment by comparing the planned dose (from a treatment planning system) with the applied dose measured from EPID during treatment delivery...